*UPDATE: It is with the heaviest of hearts that I update this post to say that Arijit Guha died on March 22, 2013. I miss him so much. But please keep reading to see why he was such a wonderful guy.*
This is my friend Arijit (pictured with his wife, Heather). He's one of the funniest, kindest, flat-out coolest people I know, the type of person for whom the term "full of life" was invented. We went to school together at Carleton College (hail the maize and blue!).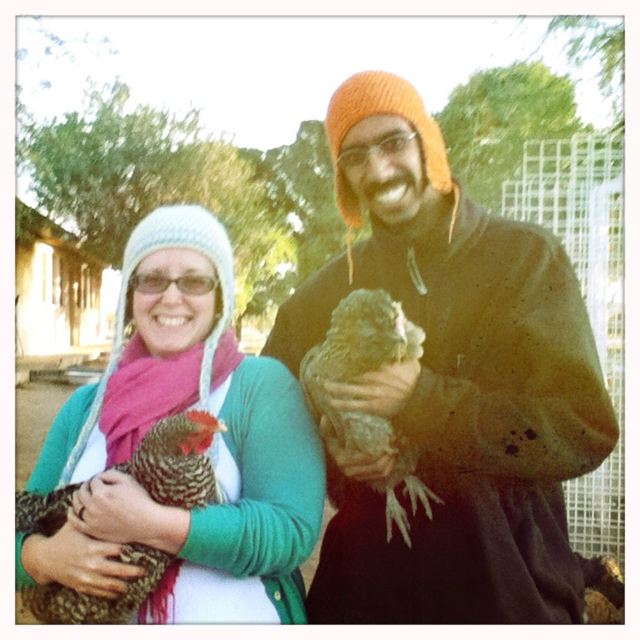 You know that guy (or woman) at your college who organized all the class activities and served on the student government and always seemed to be involved the coolest organizations on campus--and might even help found an organization if there was a void? For the Carleton class of 2003, that was Ari. (And that much-needed organization was the Gender Neutral Cheer Boys, an absurdist take on cheerleading, about which much more in Note 1.)
But what's most impressive to me--and this part is most important and just truly, incredibly rare--was that Ari filled that role without having any ego about it. Big man on campus, sure, but also big-hearted. He was simply nice to everyone, even the socially inept among us (hey, the world would be boring without some of us around, right? RIGHT??)--and, therefore, beloved by everyone, too.

He's awesomely goofy in all the right ways. After college, he grew his hair out and then
subjected himself to the most ridiculous haircut possible for charity, raising nearly $4,000
for Doctors Without Borders and other worthy causes, and ending up with a Krusty the Klown hairdo.

Now, Ari needs some help from the rest of us. At the ripe old age of 31, he's battling Stage IV colon cancer and, due to the high costs of treatment, potential medical bankruptcy.
This is the point in the post at which three-quarters of you are about to tune out. Don't. Please, please. Don't. This is not gonna be some Hallmark Channel sob story. 'Round these parts, we use humor to fight the crappy parts of life.

Case in point: Ari has set up a web site about said battle with colon cancer, a web site titled Poop Strong. Among the various items you can purchase there are brown "Poop Strong" bracelets (you know, like those yellow bracelets some guy named Lance made popular a while back) and various incredibly fashionable and deliciously offbeat t-shirts.

The man's been ravaged by cancer, blasted with radiation, had his abdomen sliced open and his colon yanked out, at the ripe old age of just 31 ... and he's laughing in the face of it all. That's bad-ass. (Um, no pun intended there.)
Also bad-ass and amazing (and, yes, more than a bit heartbreaking) is the fact that he's doing all of this large-scale fundraising and event coordination--not a small task for anyone--while he's battling really seriously major cancer and also, you know, trying to live a normal life and do normal-life things. Seriously, ponder that. (2)
If you want to know more about his story, keep reading. But here's the point:
(Here, we'll make this brown, in honor of Poop Strong):



1. Arijit Guha is awesome human being. He is precisely the sort of person the world needs more of.



2. He needs our help to continue being awesome. Because, man, FUCK CANCER. And medical bankruptcy, too.

3. You can help him AND get some sweet stuff at the same time by buying said sweet stuff on PoopStrong.org: a goofy t-shirt, a brown bracelet, a poopstrong.org email address (and you know you want that). Or ...
Another thing you can get to support Ari is to buy a raffle ticket. You can win some fantastic books, courtesy of Hill's Kitchen, signed and adorned with the Poop Strong rally cry by authors like celebrity chefs Mario Batali and Spike Mendelsohn--or you can get a copy of a Europe on Five Wrong Turns a Day signed by yours truly. Or a signed Hold Steady album. Or lots of other cool stuff.

Ahem:
http://store.poopstrong.org/products
Oh, and, in about a week, there'll be another item added to the raffle:
an hour of my time to provide travel or writing consultation by phone/Skype (or in-person if you're in the Twin Cities area).
Going on a trip? Let me help you plan--especially if you're heading to Europe. I know that place. Wrote a book about it. But I've got plenty of general travel tips and tricks up my sleeve, too. Or I'd love to help you with your writing/blogging project. Need someone to look over your short story or to give you tips on the process of finding an agent? I can help with that, too.
In short: travel writer available for consultation regarding both parts of that job title.

But the only way to get it, aside from giving me a round-trip plane ticket to Paris and a private car to Gerard Mulot, is to enter the raffle. Buy a ticket over at PoopStrong.org, once it's posted on June 1st.; and for now buy a ticket for other cool stuff.
Thanks! And ...
Poop Strong!
--
Okay, you want more of Arijit's story?
Here, check this out. Further proof of his stellar sense of humor and all-around excellence as a human being:
And now, let's turn things over to the man himself:
Last January, my wife and I returned from a trip to India and soon after our return, I was beset with intense pain in my abdomen. After numerous visits to the ASU student health clinic failed to uncover what was going on, I eventually headed to a gastroenterologist, who did a colonoscopy and discovered I had a 6-cm-wide growth in my colon that was nearly completely obstructive. I soon learned the tumor was malignant and then, when in surgery to remove the cancerous growth, my surgeon discovered that the cancer had spread well beyond the colon and small tumors had metastasized throughout my abdominal cavity. The extent of the disease meant my colon could not be re-connected and I emerged from surgery with a colostomy. In a matter of weeks, I went from thinking I had a bad stomach bug to learning I had metastatic colorectal cancer.
Fortunately, in part due to my young age and the extraordinary care I have received at the University of Arizona Cancer Center, I've been able to cope quite well so far despite the difficulties of treatment.

Unfortunately, cancer treatment is quite expensive, and recently the ASU student insurance plan stopped covering my cost of care. The Aetna student health insurance plan provided by ASU caps the lifetime insurance benefit paid out at $300,000, which the high cost of treatment used up in less than one year.
--
NOTES
(1) The Gender Neutral Cheerboys filled the role of absurdist pep band and athletic boosters for our liberal-arts college's endearingly inept football team. Listen to the story on NPR's "Only a Game" back in 2002 (skip to about 15:00 for the story). Ari's comments to the reporter: "The first word I'd use [to describe us] is 'incompetent.' ... Pretty much, we make sure that the Carleton fans are louder than the opposing teams' fans, because a lot of the time ... the Carleton fans will actually be outnumbered by the visitors, so we still want to make that Carleton presence felt. At a school this size, it's not just these random football players you don't know, but your friends, your classmates, the people who live down the hall from you. So as incompetent as we are and as ridiculous as we may seem out there, the real reason we're out here is just to cheer on our friends and show support."
(2)
I'll spare you my own rant about how how messed-up the American health care system is, but if you really want my two cents, you can read my post "
The American Dream and the freelance writer.
" Obamacare really can't get here fast enough.